Black women are beautiful. Too often, mainstream media makes black women look too sexy. Due to the fact that Black women have the curviest bodies and most wanted features, they are often sexualized by mass media. Mainstream media has a responsibility to make sure that they are not racist in their views of African American women and they often go too far!
3 Shades of Blackness – Black women wearing trendy and sexy African designed bathing suits.
Beautiful natural Black woman with a short hairstyle. This beautiful and sensual gorgeous beautiful black woman is wearing the hell out of their designed bathing suits.
Gorgeous Black woman in jeans with a tank top and natural curly Afro with amazing phenotype.
The mainstream media never shows the everyday "around the way" Black woman with natural hair and who is not showing her exotic features to the rest of the world. This is because the mainstream media likes to focus on the most ridiculous Black women, which is a technique that makes everyone, even Black people, question how ridiculous all Black culture is.
This how much of an impact that mainstream media can have on our everyday thinking.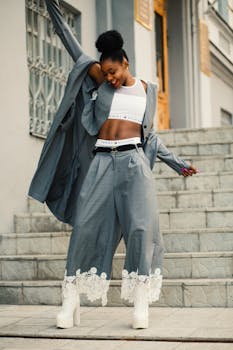 The truth is, Black women are beautiful and most are classy, well educated, and make fantastic mothers. If you watch mainstream media, you will never know this. You will think that most black women are ghetto, loud spoken, and make overbearing partners for their mates. The opposite couldn't be more true. Black women make great and attentive as well as nurturing wives and awesome mothers, even when they are forced to do it alone.
It is quite true that Black women are very sexy and attractive women. They are the most exotic women of all races. Everything about Black women is unique, including their hair, dangerous curves, and kissable lips.
The truth is that media is controlled by people who do want to look at Black people in a favorable light. Their job is to make Black people appear as buffoons, fools, thugs, and whores. They are succeeding at their job. Mainstream media is succeeding so much, that they have even indoctrinated Black people to believe the worst about Black women, but slowly, they are waking up to the lies that media presents.
Black women are also waking up and becoming more cultured. They are wearing fewer weaves and they are finally relearning how to embrace their own beauty, rather than emulating everyone else's.
Black women are proving that they are not only the most beautiful, but perhaps the most educated. Many are realizing their mistake in raising Black men and they are relearning the importance of having the father around to raise these children. This shows a prominent future for the state of Black men now. Supremacy is losing in the battle of corrupting Black women and men.
Black women are presenting class and pride more and more. They no longer wish to fill the prophecies of negative news about them and they no longer wish to work with white supremacy in their efforts of destroying Black people. Black women are realizing that they hold the cards when it comes to the advancement of Black people and many are stepping up to succeed. The media is losing!
Even with the mean and cruel media jeering Black women whenever they find it convenient, Black women rise like the Phoenix and show their supremacy. Black women are the root of Black culture. Black women are supreme.